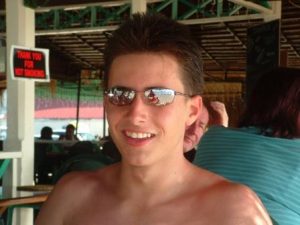 At 7:26am on January 19th 1991, Mike entered the world.
Somewhere during the early hours of August 1st 2009, Mike was called to Heaven.
Shortly after Mike was born, our family moved back on board the Logos II where Mike spent his first two years sailing the West African coast and around South America.
At 2 years old, our family relocated to England. Although Mike grew up here in our quiet town on the Border of Scotland, he continued to travel with his parent's work and to visit our family in Australia. Mike visited more than 50 countries in his lifetime and developed some unique and very special friendships.
Mike had a developing interest and skill in rock climbing. However, shortly after his 16th Birthday, he fell approximately 20 feet and suffered a compression fracture to one of his vertebra. While lying there on the ground with the paramedics and rock climbing assistants working to get him to hospital, he thought to himself, "This is it, I'm never going to walk again…" It was through his 2-month recovery time off school that Mike developed an interest in worship music and playing the guitar.
He left school and started college on a basic engineering course. However, the climbing fall had challenged him to seriously think through his values and life choices, including his relationship with God.
At a yearly camp Mike attended, he had some deep talks with a couple very close to our family. There he made a decision to not just follow God, but focus wholeheartedly on his Saviour. Mike also made a further radical decision… "I want to lead worship". Not just in developing his music and leadership skills, but in all that he did and said to others and for God's Glory.
After attempting engineering at college, and now just 17, Mike decided, along with our parents, that this wasn't for him. Instead, he went to rejoin the Logos II as a "Deckie" for 6 months, sailing from Holland to the Caribbean for Logos II's last ever voyage.
During those 6 months Mike developed his character and his relationship with God, including building some of the most valuable friendships and memories with those on the ship at the time. He found it very challenging, but also very exciting. We said goodbye to him a boy and 6 months later, he came home a man.
Once Mike returned to England, he applied to go to Nexus a worship college in Coventry. At the end of the interview he asked them, "Do I have what it takes?" Several days later, he was told they would accept him.
Mike spent hour after hour in his last year developing his guitar skills, particularly following groups like "Kutless", "Switchfoot", "Matt Redman", "Hillsong", and "Casting Crowns." Many of his music sites and blogs are included within this website.
As well as developing his music skills, he worked faithfully at McDonald's to save money for college starting September 2009. God gave him the wisdom and grace to reach out to those he worked with and he had a wonderful opportunity to impact people's lives through his kind actions.
The week leading up to his death, Mike helped our parents redecorate the living room. More to the point, he helped our dad buy a very nice TV and sound system! After looking at the bill ( just 3 days before he died) he said to Dad, "Oh well, you only live once!"
On the evening of July 31st, after Mike helped our dad cut vines off the back of the house, the family watched two movies together and then went to bed. Next morning our dad went to wake Mike up for work and found he was gone –  … he left with Jesus.
Through our pain, our family had peace as the puzzle pieces started coming together. One thing that was clearer than anything else, was God came and collected Mike. Just as "Enoch walked with God and then he was no more…" Genesis 5 vs 24.
The Post Mortem and Coroner's inquest did not find any "earthly reason" why Mike died. He was a very healthy 6 foot tall young man, though slightly 'lean' at 52 kilos (so much for working at McDonald's for 11 months!!)
It could be argued that Mike missed out on living out his dreams, desires and passions.  But we know that he graduated to heaven and, as far as worship is concerned, he certainly has got the real deal now!
You can download our story of God's Amazing Grace through August '09 by clicking on: Breadcrumbs in the Storm