ANNIE from India 21/6/12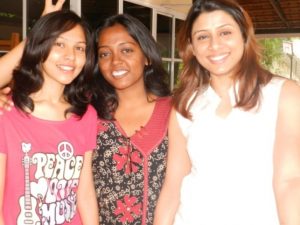 Dear Uncle Mark Knight,
Thank you so much for sponsoring me.
I consider myself privileged to have done Summer Music Seminary (SMS) at Bangalore Conservatory which was a one semester crash course in one month – 4 weeks intensive training including 1 week dedicated for the choir concert we have on the last day.
The first week began with the orientation program after which I chose to take vocals as my major instrument. We had 5 subjects in all – aural theory, music theory (written), music history, keyboard and MIDI – Musical Instruments Digital Interface. I enjoyed the course thoroughly. I learnt sightseeing. Music theory was something I enjoyed the most. The course helped me test new waters. I learnt to sing something apart from worship songs – western classical songs. I even went for one guitar class that was open for all, where I learnt the basics for plucking. Apart from all that, this course helped me interact with and learn much with musicians like me.
This experience made me realize that to be a successful musician is not just about holding an instrument and singing even if it is for praise and worship, but hard work coupled with basics in music helps you become a better musician.
A Note from my Parents:
We have seen the Lord's hand in making this SMS possible for our daughter Annie. Ever since our dear sister Mrs. Annamma Marcus shared about this with us last year; it has been her active prayer and efforts in this direction. Annie of course was excited about it and so our prayer  was – "If it is the Lord's will may it happen." The provision for the course had to come by and then when only part of it could be raised we were a little unsure if it would work out. Again our dear sister's initiative and perseverance on our behalf paid off. We have seen the Lord working out His will in the matter and are amazed at how He worked it out.
Thank you so much for making this possible for Annie and us.  As we think of your son Michael Knight     we are reminded of the word from Heb. 11: 4 – "And by faith he (Abel) still speaks, even though he is dead." Through your help we believe Michael continues to speak even though he is absent from the body and present with the Lord. . . . . . May the good Lord bless you and continue to help you accomplish the task for which He has called you and your family.
MKT Sponsors WRITEWAY to TeenSteet in Germany
MKT Sponsors Sammy through Music Collage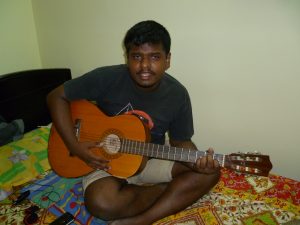 MKT gave him the donated Gibson Les Paul Electric Guitar.
Sammy is in the final semester of his studies.